Seriously, don't quote me on this:
American best-selling author  Dan Brown loves this blog.
Well, just a wishful thinking.
Anyway….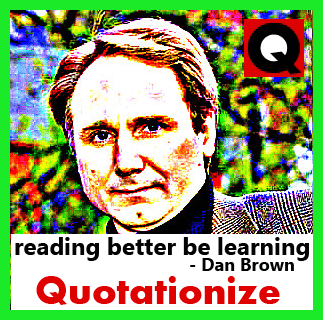 Hello fans, friends and followers of Quotationize.
You might have noticed I have just changed the domain name of this site from bestlifequotesblog.com to just quotationize.com.
For those uninitiated, Quotationize is not just another one of those thousands of quotation websites out there.
So, what is so unique about this site?
Keep reading…
This is the only quotation site which published authentic quotes with citations that linked to reliable sources.
Take note:
I don't just link the quotes to any books, magazines, websites or audio clips, or videos.
I ensured all the quotation sources are proper and credible.
Yes, it's a relentless and back-breaking task, but I love every minute of it; reading, researching and authenticating.
Any popular quotation which I am not able to authenticate its true original source, I will leave it as "Unknown or "Anonymous" for the time being.
I try to have more than one links to each quote and also include the quote in its original language.
Be it Latin, German, French or Mandarin.
Besides the quotations, I also include relevant stories related to either the words of wisdom or the people behind the quotes.
And not forgetting:
The links to all those free e-books which I managed to find them legally available from Google.
Anyway, thank you for taking interests in my quote curation and also sharing them with others.
To end this post, I like to share with you all this meaningful authentic quote:
"I feel like if I'm going to take time reading, I better be learning." – Dan Brown
(The World According to Dan Brown By Sarah Lyatt, The New York Times, Sept.30, 2017)
Note: A version of this article appears in print on Oct. 2, 2017, Section C, Page 1 of the New York edition with the headline: Dan Brown, In A World Of His Own.